Upgrade for Inground Luminaires by WE-EF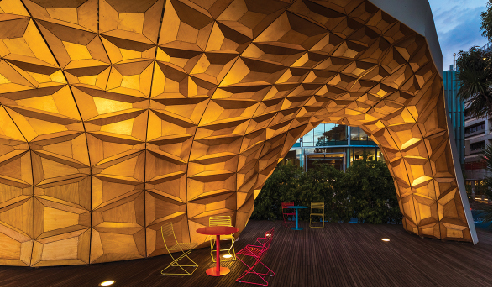 ETC/EVC300-FS inground luminaires receive an upgrade
Either by necessity or preference people occupy night-time urban spaces, and the inground uplight has made the experience more exciting. 'Bottom-up' techniques ranging from spots or grazing to wall washing have become central tools in the lighting designer's kit. To expand the lighting design possibilities, WE-EF has upgraded the ETC/EVC300-FS inground uplights to accommodate a wider range of optical accessories and control options.
In addition to the well-known set of accessories, ETC/EVC300-FS luminaires can now be fitted with a colour correction filter, enabling light colour adjustment from 3000 K to 2400 K. A glare-reducing honeycomb louvre is another optical accessory now available with WE-EF inground luminaires.
With an increasingly common requirement of adjustable lighting in mind, WE-EF has added separation of main power and DMX input cables for ETC/EVC330-FS colour-changing uplights to the impressive list of ETC/EVC300 features. The upgrade of the ETC/EVC340-FS luminaires will follow later this year.
Precision during the design process, careful material selection and state-of-the-art manufacturing, founded on a dedication to the quality philosophy, ensure that ETC/EVC300 inground luminaires series are a benchmark of product reliability, optical performance and design integration.