Mascot Engineering Brisbane Open Day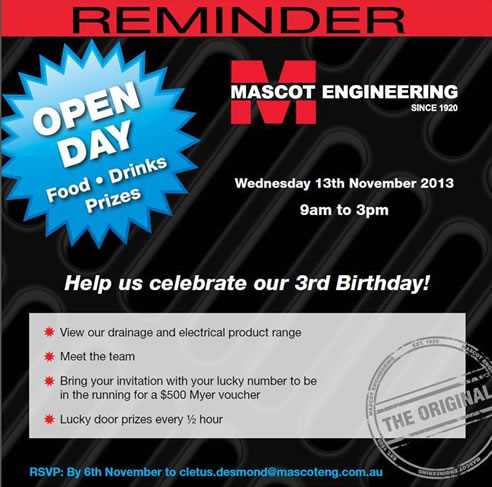 Happy Birthday Mascot Brisbane!
You are invited to celebrate Mascot Engineering Brisbane's three year anniversary, Wednesday 13th of November 2013!
It will be a fun and informal day with drinks, food, giveaways and prizes.
Mascot Engineering has been manufacturing products for the building, plumbing and electrical industry since 1920, so Mascot Brisbane is still a baby, yet it has been a busy three years and they would like to thank their customers for their support.
Cletus Desmond, QLD State Manager says; "It's been a successful three years for Mascot Engineering in Queensland... we started from a very small base and grown to be a real alternative to the traditional concrete manufacturers. There are a number of other 'lightweight' products out there, however it's nice to see the market embracing an Australian made and owned product.
I had come across the polymer and imported products during my time in the industry however when I found Mascot's GRC and understood the engineering and expertise that has gone into developing the product I was impressed... It certainly makes my job easier when you're offering a quality product."
Add Mascot's Open Day to your diary now and share in the birthday celebration.
Mascot Engineering Brisbane Open Day
Wednesday November 13, 2013
9am - 3pm
70 Nestor Drive, Meadowbrook
Just off the Logan Motorway and only 10 minutes from the M1.
For more information on Mascot Engineering and their products, visit www.mascotengineeringcom.au or call 1300 885 295.