Lightweight GRC Concrete Sandpit from Mascot Engineering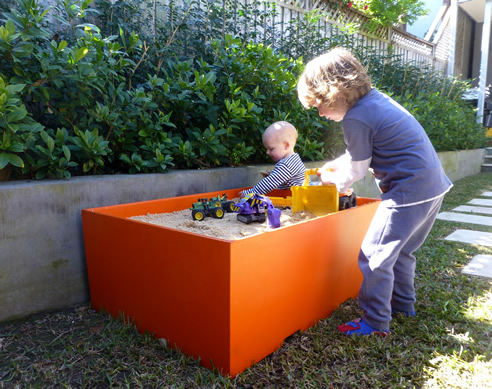 Childs Play... Creative uses with GRC Planter Boxes
from Mascot Engineering
A unique use of Mascot Engineering's planters can be seen here where it's used as a backyard sandpit. The surface of Mascot's GRC planters can be finished in any material that is suitable for use on concrete - this sandpit is finished in a playful orange and is complete with a custom aluminium cover.
Engineered and manufactured in Australia, Mascot Engineering's lightweight Glass Reinforced Concrete (GRC) planter boxes have the lifespan of traditional concrete without the hassle of moving a tonne of concrete into position.
Available in various shapes, sizes and profiles, Mascot's Planters suit most applications. Freestanding, wall mounted, cavity mounted and in-ground with an ever-evolving range, Mascot Engineering should be the only call you need to make for your next project.
Mascot Engineering has been manufacturing products for the Australian building industry since 1920. With distribution centres Australia-wide, Mascot Engineering has not only gone through all the approvals, they've stood the test of time.
You can find out more at Mascot Engineering's comprehensive website - mascotengineering.com.au or call 1300 885 295.