Radiant Outdoor Heating with Heatstrip from Outdoor Heating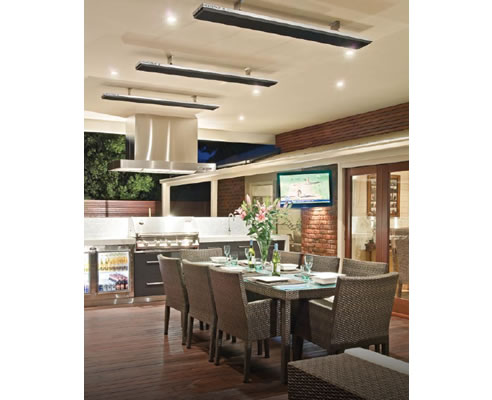 Comfortable radiant warmth from above
Similar to the radiant heat rays emitted by the sun, the ceiling mounted HEATSTRIP range of outdoor electric radiant heaters emits radiant warmth from above that travels through the air directly to people and surfaces below. Within your home, HEATSTRIP can provide comfort heating within undercover alfresco dining and BBQ areas, patios, verandas, courtyards and balconies.
Efficient, cost effective electric heating
The innovative design of HEATSTRIP enables rapid, even heat dispersion from the heater face at minimal operating costs.
Subtle, minimalist design
The stylish, slimline black face of HEATSTRIP does not emit light or glow when in use, blending elegantly into your decor. Ceiling or wall mounting options ensure that your valuable floor and table space is not wasted.
Maintenance free
HEATSTRIP incorporates no internal moving parts, ensuring silent and maintenance free operation.
Stylish casing options
Standard outer casing colour for HEATSTRIP is matte silver, which is suitable for most urban areas. Polished stainless steel encased SS models are also available, offering extra protection against corrosion. These SS models are suitable for use in waterfront or coastal areas, as well as outdoor kitchen and saltwater pool areas.
Commercial applications
HEATSTRIP has successfully enabled many entertainment venues such as restaurants, pubs and clubs to utilise their outdoor dining areas day and night, through all seasons. Within your workplace or business, HEATSTRIP can provide comfort heating for designated outdoor smoking and leisure areas, as well as for workstation spot heating in workshops, factories, warehouses and showrooms.
Australian made
Designed and manufactured in Australia, HEATSTRIP is backed by a 2-year guarantee.