Baby Change Stations from RBA Group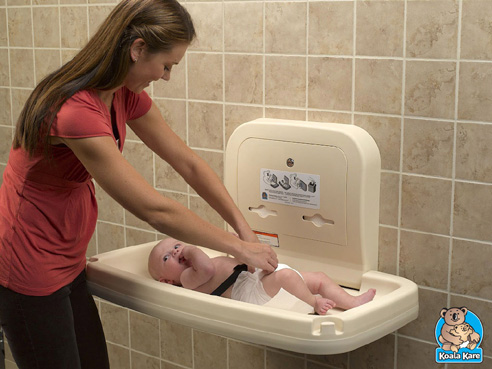 RBA offers the full range of Koala baby change stations, from wall mounted to countertop models.
The bed surfaces of our baby change stations contain exclusive Microban® antimicrobial' which reduces odour–causing bacteria and is resistant to mould growth' helping to maintain hygiene.
Our wall mounted Koala baby change stations include steel-on-steel hinge mechanisms' providing control and support for the user. The choice of different baby change stations allows RBA to cater to any budget or design requirement. Our stainless steel finish baby change stations are a design complement for modern rooms' as well as providing extra degrees of durability and vandal resistance in very high use areas.
RBA's Koala baby change stations are available in a variety of finishes and applications:
Horizontal – Wall Mount
Vertical – Wall Mount
Stainless Steel Finish – Wall Mount or Recessed
Oval or Rectangle
Countertop Surface Mounted
Countertop Recessed
Colour Range
The 5 year warranty on RBA's Koala baby change stations reflects the high quality of our products' with an equally high level of service.
Visit our website today at www.rba.com.au to see our complete range!