Drainage Grates from Mascot Engineering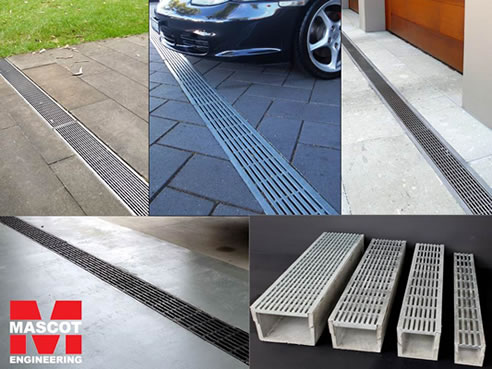 Drainage Grates for all applications
Lightweight concrete DriveDrain Channel System from Mascot Engineering - a grate for all projects.
With a huge range of drainage channel options, Mascot Engineering has a solution for your next project. Mascot Engineering's foundry opened in 1920 near Sydney Airport and their cast iron grating can be seen all over Sydney, especially throughout the inner city and The Rocks. Over 90 years later, Mascot is still offering Cast Iron; however Galvanised Mild Steel and Stainless Steel options are available.
Mascot's DriveDrain Channel System is manufactured from Glass Reinforced Concrete (GRC) - a composite of fibreglass and concrete technologies. It is lightweight for handling ease, yet is strong enough to stand up to industrial and commercial applications as well as residential. The strength of GRC ensures there's no issue with transport to regional or remote areas nor will it crack, fracture or shatter during install.
GRC DriveDrain is currently available in 100mm, 150mm, 200mm and 250mm internal sizes with more in development.
The versatility of Mascot Glass Reinforced Concrete DriveDrain allows for a number of grating options with load ratings to suit pedestrian, highway and airport loadings (AS 3996 Class A to Class F) as well as heelguard and anti-slip variants.
Mascot Engineering has been manufacturing GRC products since the early 1980's and today is Australia's largest and most experienced GRC manufacturer. All GRC products are manufactured in Australia and the business is Australian owned with distribution centres in Sydney, Melbourne, Brisbane and Perth.
For more information on Mascot Engineering's Glass Reinforced Concrete drainage products, visit www.mascotengineering.com.au or call 1300 885 295.