Low Energy Organic Lighting for Gardens by the Bay from WE-EF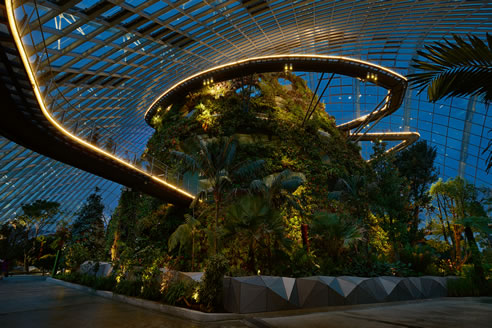 Gardens by the Bay - the ultimate park - Singapore
Just five minutes' walk from Singapore's banking quarter and its skyscrapers, lays spectacular gardens with dimensions, species diversity and elaborate staging which has already attracted millions of visitors since the opening in July 2013.
The 'Gardens by the Bay' project, which cost more than Euro 600 million, is part of the strategy to transform Singapore into a City in a Garden. Its attractions include a rainforest complete with a waterfall under a 54-metre glass dome, a 1.2-hectare greenhouse for Mediterranean and sub-tropical plants and super trees ranging from 25 to 50 metres in height and a large botanical garden. Photovoltaics, a biomass power plant and a special water recirculation system throughout the nestled lakes are used to operate the recreational park in a resource-friendly manner.
A concept from Lighting Planners Associates (LPA) provides impressive lighting in the park during night-time hours. The lighting designers were guided by the motto "Entertainment with Organic Lighting". Dynamic light in carefully co-ordinated choreographies highlights the attractions, such as the waterfall and 'super trees', while a discreet play of light and shadows illuminates the paths.
The guidelines for the lighting master plan specified low-energy lighting and the virtually seamless integration of the luminaires, to avoid a negative impact on the quasi-natural appearance of the gardens during the day.
These requirements were met with numerous WE-EF luminaires, among others. For example, symmetric RAIL66 FLC projectors were used to highlight the front of each greenhouse. Precisely aligned with anti-glare snoots, they outline the expressive support structure of the gigantic glass dome without offensive light pollution. WE-EF luminaires are also used in the 'Cloud Forest', the artificial cloud mountain from which a 35-metre waterfall plunges to the bottom. Bi-symmetric FLB floodlights accent the exotic plants and the spiral walkway leading down from the top. An elevator provides a comfortable ascent. In addition, GTX, GTY and CTY bollards together with PFL street and area lighting luminaires and STL recessed steplights light up the paths inside and outside the greenhouses.
Builder: National Parks Board, Singapore. Master planning/Landscape architect: Grant Associates Architect: Wilkinson Eyre Architects. Lighting design: Lighting Planners Associates.