Timber Furniture Polish from Mirotone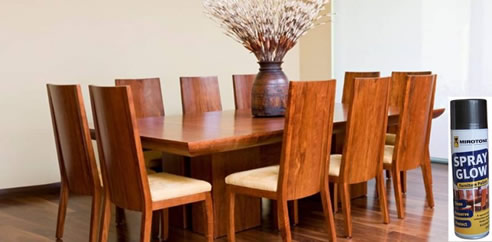 Spring is in the air and you know what that means... It's time for your home to get the spring clean treatment!
SPRAYGLOW will help clean, preserve and protect your interior furniture.
SPRAYGLOW is a silicone free, special blend of colourless waxes for timber furniture that will clean, preserve and protect surfaces. Made from natural oils and waxes, this pleasant to use, lightly perfumed furniture polish will clean and enrich (without darkening) furniture and fittings, including natural timbers such as Teak, Black Wood, Walnut, Mahogany and low gloss simulated timber laminates and hard surfaces.
With regular use your low gloss and semi-gloss interior furniture will be restored to its factory-fresh appearance without the unsightly, unnatural shine of some polishes making your furniture look like it has just come from the show room.
Available in 200-gram aerosol cans, SPRAYGLOW will be your go to polish to protect your furniture and fittings for years to come.
For your nearest distributor details click here!