Cheminees Chazelles slow combustion wood heaters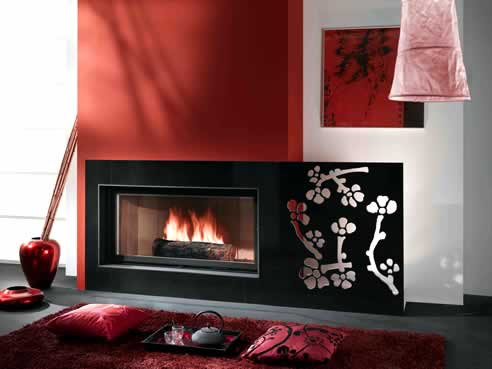 Chazelles is Europe's leading manufacturer and distributor of fireplaces. Represented in over thirty countries, Chazelles have an extensive range of fifty slow combustion wood heaters. They are known for their high performance and unusual designs, using materials such as chrome, brushed steel and brass, with curved, panoramic or flat doors, and double or triple-sided models.
Chazelles' new range, Design, complements the well-known Radiant and Grande Vision ranges by offering the largest slow combustion firebox in the Australian market, with a width of 1400mm. Using the unique Chazelles dual opening system, its door can slide up out of sight for the atmosphere of an open fire, and slide down for the efficiency and safety of a slow combustion fire though still with an excellent view through its glazed surface.
Designed to heat the largest home, the Radiant range of fireplaces are made of heavy-duty cast iron. Their heat transmission fins promote greater heat exchange, increase safety, make overnight burning clean, and are easy to operate. A damper and fresh air control governs the rate of burning and reduces heat loss, maximising overall efficiency. A large heat-proof panoramic glass door, also with dual opening, offers open and slow combustion burning. The ceramic glass remains clean throughout the life of the fire through an advanced air-wash system that works within the firebox. Grande Vision fireplaces, with many of the features of the Radiant range, are made from a double skin steel structure with fireclay lining. Their large ceramic glass doors have heat resistance's of up to 820.
During operation, emissions outputs are kept at an environmentally friendly level that complies with the strict AS/NZ 4013 standards for smoke emission. All Chazelles' units comply with the highest European environmental safety levels and Australian and New Zealand standards. They come with a ten year warranty. Chazelles has forged a reputation for its knowledge and skill in fireplace design, combining a history inherited from the stone-workers of France with innovative research and development. Around fifteen different professions collaborate to make Chazelles fireplaces, with a sure and precise human touch and high-quality materials, attention to detail and rigorous inspection. Their fireplaces have become a reference point for all fireplace design.