DriveDrain driveway drainage from Mascot Engineering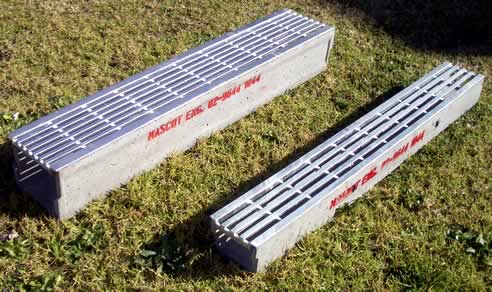 We proudly present the latest in Trench drainage from Mascot Engineering - DriveDrain.
Like all Mascot Engineering products the GRC DriveDrain is cost-effective and very practical. It offers the advantages of low weight for handling ease, yet is strong enough to stand up to industrial and commercial applications as well as residential.
This new drainage system is designed for ease of installation. Currently available in 100mm & 200mm, however more sizes are in development and will be available in the new year.
DriveDrain is manufactured from Glass Reinforced Concrete (GRC) - a composite of fiberglass and concrete technologies. Mascot's unique GRC gives you the strength of concrete and the convenience of plastic.
The trenches simply interlock together and end caps are available.
DriveDrain is available with a range of Galvanised Mild Steel Grates as standard to suit both heavy and light duty applications.
Custom Stainless Steel Heel proof grates are also available for when aesthetics are paramount.
Mascot will also be adding traditional Cast Iron Grates in the coming months.