Graffiti Protective Film GraffitiTidy from Solar Gard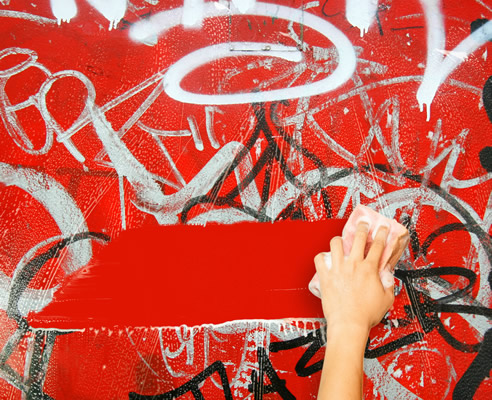 GraffitiTidy™ - The game-changing graffiti protection
Solar Gard® GraffitiTidy™ is a durable, non-stick clear film suitable for applying to smooth surfaces to protect against graffiti damage from marker pen and spray paint. Once installed on smooth surfaces such as road signs, garage doors, plasterboard or glass, GraffitiTidy film offers 24 hour protection.
As the film is clear, vandals won't even know GraffitiTidy has been installed. GraffitiTidy will allow their pen and paint graffiti to be applied so the vandal is satisfied they have done their damage and can move on. Clean up though is where GraffitiTidy saves valuable time, expense and effort with easy graffiti removal.
How does it work?
Solar Gard GraffitiTidy is a durable protective film applied to your smooth surface and provides a durable non-stick barrier that is hydrophobic, in that it reacts by deterring liquids similar to the way a non-stick pan works. Its low surface energy means that even permanent marker pen can simply be wiped off with a dry cloth. GraffitiTidy boasts a very high chemical resistance meaning that existing graffiti-removal products are safe to use without damaging the surface beneath.