Masonry Crack Stitching Repair Kit from The WDS Group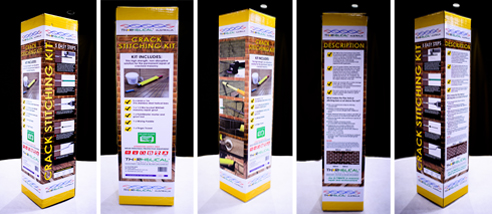 NEW! Thor Helical Masonry Crack Stitching Repair Kit
Thor Helical are pleased to announce the release of their new masonry crack stitching repair kit. This convenient masonry repair kit is ideal for small projects, for permanent repair of vertical or stepped cracks and can be bent for corner crack repairs in masonry.
The masonry repair kit comes complete with the following items:
5: 6mm x 1m 316 grade Stainless Steel Crack Stitching Bars.
1: 1.5 Litre Cementitous Grout Kit.
1: Pointmaster Grout Gun.
1: Mixing Paddle.
1: Finger Trowel.
WDS stock back up packs if more crack stitching bars or grout are required.
5 x 1m crack stitching bars.
10 x 1m crack stitching bars.
50 x 1m crack stitching bars.
1 x 6m roll crack stitching bar.
5 x 6m roll crack stitching bars.
Grout tubs 1.5, 3.0, 4.5 & 12 litre kits.
The kit is ideal for remedial builders, cement renderers, painters, and strata maintenance. Please contact WDS for Thor Helical sales by calling today.