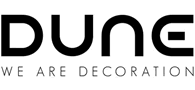 Company Profile
The business model of DUNE is based in society provide decorative solutions that make up integrated spaces adapted to local demands around the world.

Dune was born in 1993 in San Juan de Moró (Castellón), Spain, as company's borders and special pieces to decorate ceramic wall and floor tiles. At that time took the opportunity offered by a market where tile had gone from being a "sanitary and hygienic" product to become an essential decorative element. A change that transformed Dune as the company which today allows you to have different collections differentiated but easily combinable between them: Megalos, Emphasis, and Eureka!.

Dune from the beginning has a clear international vision that allows you to adapt to local demands thanks to a commercial network of 11 branches around the world: Argentina, Australia, Brazil, China, Spain, France, Mexico, Portugal, UK, USA Florida and California USA and more than 8000 customers.
Dune Australia Pty Ltd
02 9771 0622
Unit 1A, 3-5 Wrightland Place, Arndell Park, NSW
* If you would like to update the text on your profile page, please contact Spec-Net.