Large Floor and Wall Tiles Range from Dune Australia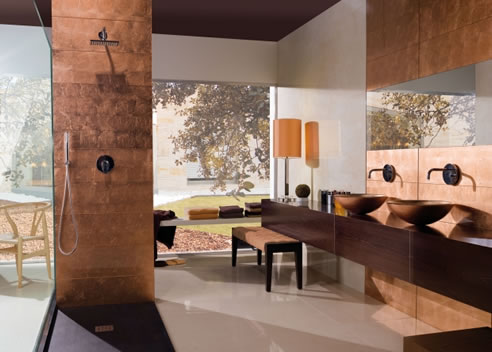 Here at Dune, we are continuing to widen our range of wall and floor tiles in large sizes, using 25x75cm and 60x60cm formats.
Big sized tiles are one of the most trendy avant-guards in interior designs, as they give the customer a wide variety of ways to create an effect of roominess in their spaces.
To get a total decorative effect, Dune has designed wall, floor, deco, rosettes, border tiles and stylish washbasins to match.
One of our main novelties this year are Rosettes, a set of pieces which ensambled create a global design. Dune's rosettes will give a hint of glamour to your floors.
Other novelties are the injection murals. These are photographic murals with a modern style, classical, for kitchens, bathrooms, etc. These pieces offer an endless range of possibilities to decorate any space. These murals are available in 25x75cm ceramic tiles and 30x30 glass tiles.
And last but not least, new 25x75cm glass tiles are introduced in our range of products. After the success of our models 'Pan de Oro' and 'Pan de Plata', Dune launches these two colours in bigger sizes, including a new colour 'Pan de Cobre'.
Dune keeps on enriching its variety of mosaics with amazing innovative products. New designs and sizes combined in an unbelievable mixture of materials: glass, mirror, stainless steel or stone are only some of the new proposals.