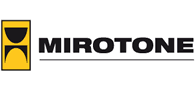 Company Profile
Established in 1938, Mirotone is the leading supplier to industry of surface coatings to protect and beautify interior wood and wood related products. Our coatings are used extensively in domestic, architectural, and commercial applications. These include furniture, pre-finished panels and flooring, wall units, picture frames, mouldings, toys, bedroom units, kitchens and vanity units.

Mirotone has products suitable for application by Spray, Curtain Coating, Roller Coating, Vacuum Coating and Dipping. Mirotone's coating application laboratory in Sydney is equipped with a spray booth, two roller coating lines to apply and instantly cure UV coatings, a curtain coater and a vacuum coater. As part of Mirotone's service offering, our technical staff can simulate various production environments, application processes and coating systems.
Mirotone
02 9795 3700
21 Marigold Street, Revesby, NSW, 2212
* If you would like to update the text on your profile page, please contact Spec-Net.