Sustainable Products from Supawood for 6 Green Star USQ Building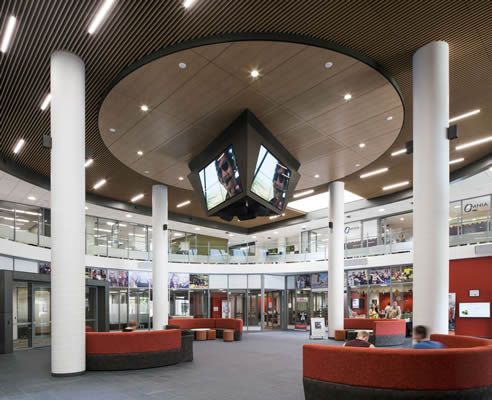 Mode Design & Badge Group's award winning 6 Green Star USQ Building
USQ EDGY Building has been awarded the highest possible Green Star rating of 6 Stars for Education As Built. This state of the art building at the Springfield campus of the University of Southern Queensland features several of SUPAWOOD's products in the expansive foyer ceiling.
Throughout the designing and building of this facility the incorporation of sustainable building materials was a priority for both MODE Design and Badge Group, their aim being to reach the highest possible green rating.
SUPAWOOD slatted ceiling tiles, decorative panels and acoustic slotted panels were chosen for the ceiling linings because their finish could be matched perfectly to achieve the look wanted plus they also addressed all the required green credentials.
On the ceiling of the open double storey foyer SUPATILE SLAT slatted Lift & Shift ceiling tiles option 5 have been used as a perimeter around a central circular feature. These enable full accessibility into the ceiling cavity.