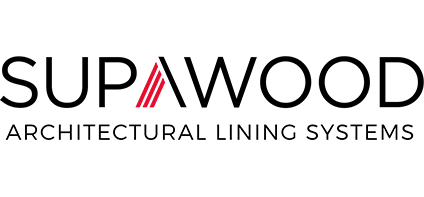 Company Profile
SUPAWOOD offer one of the most diverse ranges of low maintenance, pre-finished decorative architectural wall and ceiling lining systems available. They offer a wide selection of timber panels as well as a line of aluminium beams and slats. Originally created in Australia, this market leading range is also available in New Zealand, Asia-Pacific, the UK and Europe.

The SUPAWOOD range includes lightweight beams, panels, slats, screens, blades, and ceiling tile systems which come in a choice of standard and custom options. An extensive selection of stunning finishes can be perfectly mixed and matched across the entire range.

Lining solutions for optimum room acoustics in architectural projects is where SUPAWOOD'S expertise is most developed with standard or customised options available. Creative applications such as curved, floating and sculptural lining effects are all possible.

All SUPAWOOD products are supplied with their own fixing systems and can allow for concealed access to services.

Special options are available including fire retardant, Wet-sealed and low VOC linings as well as environmentally friendly linings to achieve Green Star credits.

SUPAWOOD provide full technical guidance and advice from start to finish, so now you can work with one company to develop a range of lining concepts for your next project.


Supawood Architectural Lining Systems
02 6333 8000
Bathurst, NSW, 2795
* If you would like to update the text on your profile page, please contact Spec-Net.