Nightstar LED High Performance Long Life Luminaire from Sylvania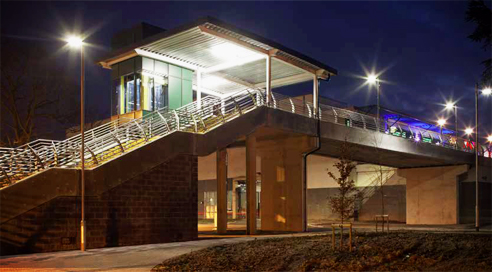 Nightstar LED
The modern styling of the the Nightstar LED is striking yet unobtrusive - making a bold, progressive statement as it blends seamlessly with its environment.
The Nightstar LED Series takes all the benefits of LED technology and moulds it into a high performance, high efficacy and long life area lighting luminaire.
Features:
34W to 326W capable of delivering up to 36 000 lumen with T3, T4 and T5 distribution options.
Exceptional 'finned' thermal management system ensures over 100,000 hours LED module life.
Integrated DALI option, the Nightstar LED Series delivers a controllable luminaire that helps you realise energy consumption goals and demonstrate environmental responsibility.
Unique optics placed below each LED ensure light is delivered where it needs to be and provides a uniform Nightime Friendly environment.
Minimal light pollution perfect for dark sky applications.