Acoustic Ceiling and Wall Panels from Screenwood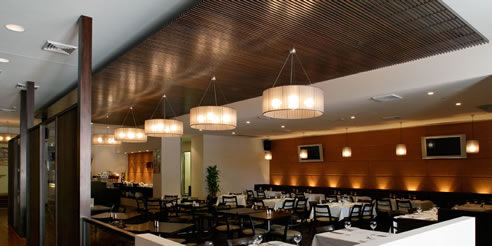 Screenwood Acoustic Ceiling & Wall Panels are manufactured from solid timber slats in a variety of profiles.
Our system incorporates a unique black acoustic scrim backing which enhances sound absorption, making it ideal for architectural acoustic installations where echo reduction is critical to the comfort and amenity of the room. Our systems are designed to be modular and pre-finished allowing for ease of installation.
This proprietary design and engineering results in a linear timber finish avoiding the time consuming individual front fixing of slats on site. Panels are fire tested, VOC tested and NRC rated to offer a complete solution. Screenwood also carries PEFC certification.
Screenwood Ceiling Panels can be used within a coffer or suspended below the existing ceiling level. Screenwood's concealed bracketing system (patent pending) is screwed to the ceiling substrate or suspension system creating a floating ceiling effect without exposed fixings. For floating ceilings, the acoustic lining does not need to be included.