Industrial Energy Efficient Roof Membrane from Cocoon Coatings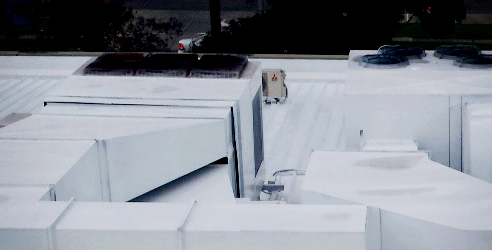 Cocoon Coatings provides products that are independently tested and proven to conform with Building Codes Australia, Section J Energy Efficiency and complying with Australian Insulation Standards AS/NZ 4859:1. Every roof substrate is rated for their Solar Reflectivity Index (SRI) value. Our membrane has a certified (SRI) value that when applied new or existing roof will reduce internal temperature considerably.
Our latest industrial project - issues addressed: water ingress and warehouse hot to work effectively. 2,700m² waterproof and infrared membrane, coating the air conditioning unit and duct, reducing A/C power consumption.
Building Codes of Australia, Section J Energy Efficiency.
Complies with Australian Insulation Standards AS/NZS 4859:1.
"Cocoon coating improves the thermal performance of the project. The nanoceramic in the membrane genuinely reflects heat more effectively than regular paint," - Judith North Architect Director of NOWarchitecture.
"The heat load has been reduced internally by 5-8°C and has been so successful that additional roofing around the facility has also been treated," - Terrona Ramsay Former CEO/DON of KRHS.