Whiterock Wall Designs Commercial Interior Wall from Altro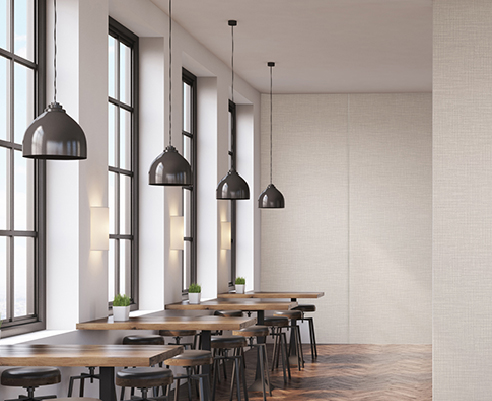 Introducing Altro Whiterock Wall Designs
Welcome to the latest vision in wall decoration - Altro Whiterock Wall Designs. Developed in response to market needs, Altro Whiterock Wall Designs will transform your interior environment whilst retaining a high level of functionality. It's the perfect combination of style and strength.
Complete Your Look
Altro Whiterock Wall Designs are ideal for general circulation areas as well as non-critical hygienic wet environments such as bathrooms and spas. The variety of design options means there's a wall product to suit any design aesthetic and the smooth impervious surface - fitted like an Altro Whiterock sheet - means minimal maintenance is required to retain the original appearance.
The new Altro Whiterock Wall Designs partner perfectly with the suite of Altro floor, wall and door products for a total project solution. Designers, specifiers and end users have an extensive colour palette to create stunning, coordinated interiors. And all products are backed by Altro's industry-leading technical support, customer service and quality guarantees.
Bringing Interior Spaces To Life
From striking and contemporary to calming and natural, interior spaces are bought together with Altro Whiterock Wall Designs.
Whatever your design aesthetic there's an Altro Whiterock Wall Design to suit. Select from the warm character of natural wood, the cool vibe of stone, the textural interest of linen or the chic reflection of metallics.
Seamless application means no unsightly lines and thermoforming of corners provide an uninterrupted flow. Combined with excellent scratch and wear performance, the Altro Whiterock Wall Designs will continue to look good in even the harshest of conditions.
Altro Whiterock Woodgrains
Embrace nature in your interior spaces with Altro Whiterock Woodgrains. Woodgrain brings both warmth and richness to the design palate, and it fulfils our innate need to connect to the natural environment.
With three options available in the Altro Whiterock Woodgrains suite - Soft, Warm and Rich - there's a tone to suit the design and purpose of any interior environment.
Altro Whiterock Weaves
For interiors in need of understated interest and texture, the family of Altro Whiterock Weaves in Summer, Autumn and Winter tones provide the answer. Whether you need to dress it up or dress it down, the subtle pattern complements other materials to result in a sophisticated and elegant space of warmth and comfort.
Altro Whiterock Metals
Whether it's a gleaming slice of contrast or a bold statement wall, Altro Whiterock Metals in Antique Copper and Brushed Steel provide the bling. Coordinate with rustic elements to bring out an industrial edge, or pair with clean lines to create a cool city vibe. Either way, Altro Whiterock Metals is one of the easiest ways to inject style, glamour and interest into any interior environment.
With 11 designs to select from, there's an Altro Whiterock™ Wall Designs product for every use.
The collection has a subtle texture to add a touch of realism while maintaining its hygienic properties. Matching silicone sealants are available, as well as five co-ordinating trims.
For more information, visit www.asf.com.au.