Residential development at Caloundra Queensland by the National Association of Steel-Framed Housing (NASH).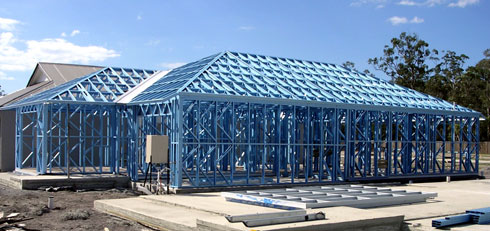 Halcyon Parks is a new development of 171 homes set on 16 hectares of parkland on Queensland's Sunshine Coast at Caloundra. The estate offers ten house designs and is exclusively for the over 50's market. The focal point of the community is the Recreation Club offering a gymnasium, board room, library, kitchen and multi-purpose room with a dance floor.
Bevan Geissmann of Halcyon Management said that steel was selected for both the houses and the Recreation Club as it provided the high quality, durable substrate for the high quality finishes that the over 50's were demanding. The builder is Halcyon Matrix and the steel frames were provided by BSM and Rigid Steel Framing.
The electricians and plumbers on the site particularly liked the pre-drilled holes in the studs and found the fitting of grommets considerably quicker than drilling holes. The plasterers commented on the straight studs and walls, corners that were square and plumb and the flat ceilings.
Halcyon Management is now building another estate of 250 homes on Hope Island at the Gold Coast, again selecting steel framing.


During development & the finished product.
About NASH
NASH is an active industry association centred on light structural framing systems for residential and similar construction. We represent the interests of suppliers, fabricators and customers - all those involved in steel framing systems.
Our key objectives are to:
Support the long term growth and sustainability of the steel framing industry.
Maximise awareness of the steel framing industry in the market place.
Promote the advantages of steel framing to the building industry and home owners.