Dale Glass Industries take care of their storage of fragile natural wood bench tops for you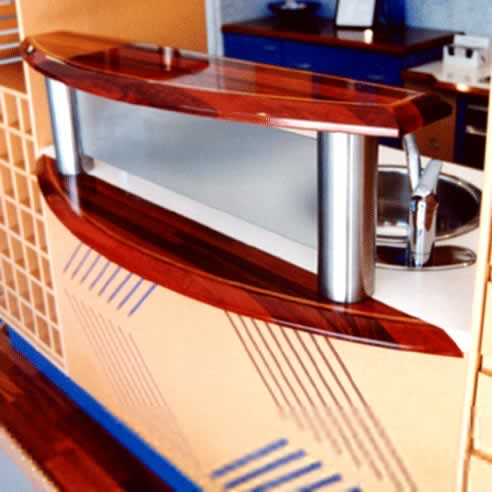 Buyer Protection
DGI GLULAM is warranted free from manufacturing defects and the performance of the product is guaranteed for 7 years providing the conditions relating to handling and storage are adhered to, and that fabrication and installation has been performed to DGI's recommendations.
We at DGI believe that your Glulam product should give years of service; our manufacturing and quality control processes strive to produce items of durability and practicality. All we ask in return is that the installation, sealing and care instructions are adhered to, and that the product is not used in areas of extreme climatic conditions.
Our warranty does not cover external usage unless the product has been specifically manufactured for that purpose eg. Treated Pine structural beams. Generally our products are specifically designed for internal use.
Natural timber features and variations in colour and texture of the wood and/or laminates are not considered defects.
Handling / Transport
Your DGI GLULAM tops should only be top loaded and a suitable protective packaging should be used to avoid damage. With fabricated products, do not put stress on joints and areas of short end grain.
Onsite Storage
On receipt of your DGI GLULAM tops it is essential that they are to be stored in a way that they are protected from the weather and areas that are subject to extreme changes in humidity. Store flat at least 200mm off the floor to allow air to circulate. Do not leave boards leaning against brick or concrete walls as excess moisture pick up is inevitable.
It is essential that DGI GLULAM is fully envelope sealed as soon as possible with at least two coats.
Problem Solving
Cupping: DGI GLULAM, being a very wide solid piece of timber may cup when it is in an unsealed or unbalanced state. This is considered normal and occurs when there a moisture content imbalance. This imbalance is temporary and can be easily corrected by wetting the concave side and covering with a plastic sheet. When straight, sand and envelope seal immediately.
End Splitting: is common with unsealed boards. Repair by filling with Plastibond or Epoxy glue.
Minor Timber Defects: Natural to timber. Can be repaired with Wood Putty or Plastibond coloured to suit.