Dale Glass Industries' Glulam is vital for optimal performance from your bench top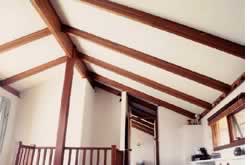 Dale Glass Industries ensures that the timber used in the manufacture of Dale Glass Industries GLULAM has been properly kiln dried to 12%; This is the Equilibrium Moisture Content of dry timber in Australia.
The moisture content of timber will vary due to the movement of moisture into and out of the timber. Natural humidity (dry and wet), air conditioning, machines that dispel heat or moisture (eg. dishwashers, cooking appliances etc.) will effect the moisture content of timber. As moisture in the air increases it is absorbed by the timber and the timber will expand. The timber contracts as moisture in the air decreases.
Dale Glass Industries GLULAM, being a natural timber product, will expand and contract across the grain with these changes in humidity. This movement is quite normal. It is usually only minimal and can be allowed for in the installation.