Under tile heating from Amuheat for bathrooms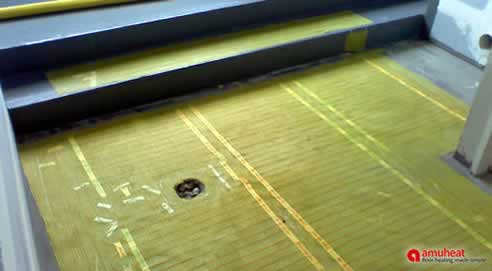 The cable strip under tile heating system has been developed primarily for use as a background or primary heating source for home and bathroom renovations. The ultra thin 1mm heating element is installed above the subfloor, under mesh in the tile adhesive, without affecting floor levels.
The under tile heating element comprises a multi-stranded, self regulating copper alloy conductor whose primary insulation is Tefzel. The insulated conductor is protected with a stainless steel earth screen insulated with an outer layer of Tezel. The total earthed heating element diameter measures 1mm.
Cable strip is available in several sizes, of which one or a combination of, is easily configured on site to suit any floor layout. The under tile heating element is a free-form cable configured in strip form. The pre-spaced 1mm heating element on double sided adhesive tape as compared to free-form cable heating systems, ensures an even heat distribution across the floor surface eliminating hot and cold spots.
Time savings on installations using under tile heating systems supplied in strip form is achieved since the installer is not required to work out the spacings between the heating loops and measure these out as he moves along with the installation. Also, installations can be completed a lot quicker since larger widths of cable can now be looped up and down the room, as compared with a single heating element.
The under tile heating system must be connected to a RCD protected circuit. All systems are tested and comply with IEC 60335-1:2001 and EN50082-1:1992 electrical codes, and the Cable Strip is UL listed. Amuheat Cable Strip is guaranteed safe - even in wet areas.
Cable strip is offered in DIY and Trade kits complete with an adhesive fibrelgass mesh, element fault monitor, programmable thermostat with built in timer, air sensor, remote floor probe sensor, installation guidelines and free telephonic support for a hassle free and easy under tile heating system installation.