Maxi Beam Ceiling for Shopping Centre by Supawood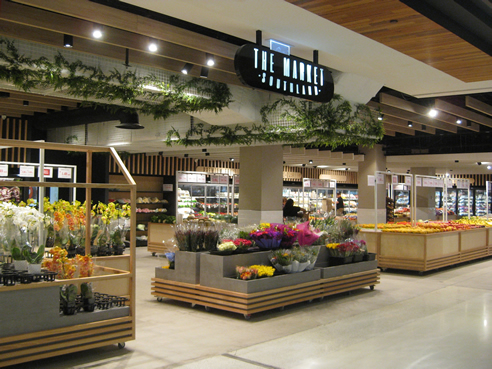 Maxi Beam ceiling helps to define areas of market
Maxi Beam lightweight beams have been used in the refurbishment of The Market at Westfield Southland, one of the biggest shopping centres in Victoria.
The design brief called for a chunky beam ceiling look, but this posed logistical and installation problems in a live environment. Scentre Group with design partners, One Design Office, wanted to source a lightweight beam alternative to solid timber which was easy to get onto the site and didn't require any additional structural alterations to the existing ceiling.
Maxi beam was ideal as its light weight allowed the designers to achieve the beam look they wanted without needing expensive reinforcing of the existing ceiling. Plus, it resolved logistic problems. The beams were also delivered prefinished and cut to size, which minimised installation noise and dust levels. For this reason, this beam product has proved extremely popular for retail projects.
In this project, the lightweight beams have been used for the ceiling in two different levels and finishes to define distinct areas of the market.