ev80 External Venetian Blind Types from Evaya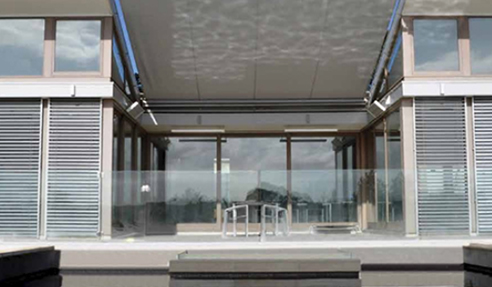 The effectiveness of the ev80 external Venetian blind from Evaya extends beyond the traditional blind system; It is developed to benefit the relentless evolution of building design and sustainability. Highly integrated, it effectively reduces energy consumption, carbon dioxide emissions, and overall expense, while delivering a striking facade with distinct features.
There are five types of ev80 external Venetian blinds to choose from:
Type 1 - Installed with high-quality wire guides that anchor the blinds to their fixings without causing any harm to the facade. The wire guides are made of high-quality 316 marine grade stainless steel wire coated with UV protection PVC sheath.
Type 2 - Installed with Zamac-made side pins that are conveniently fixed to the slats, which are then engaged with the side channels. Enables a stable and refined operation.
Type 3 - Similar with type 2 but with an additional Double Pinning - side pins anchored on both sides of individual slats.
Type 4 - Left-hand side channel with right-hand wire guide.
Type 5 - Left-hand wire guide with right-hand side channel.
Learn more about ev80 External Venetian Blind Types by heading over www.evaya.com.au today.