Amuheat cable mat in-floor heating systems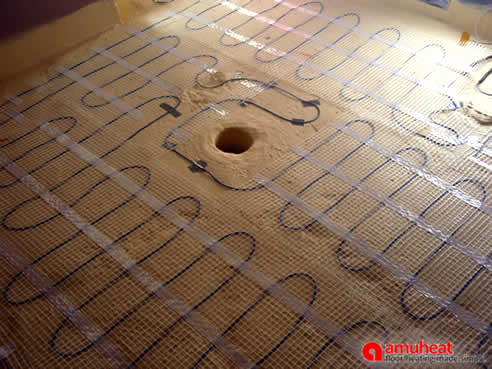 Amuheat's Cable Mat in-floor heating systems are suited to generate heat under tile, wood or laminate floors in bathrooms, kitchens, entry-ways and family rooms. The thin heating element construction makes them ideally suited for renovations and new home builds.
The ease of installing Cable Mat makes this in-floor heating system an ideal trade friendly kit without complicated layout preparations and calculations - and our trade products are available for DIY projects too. It has never been easier to avoid spoiling your rooms aesthetics with radiators or convector heaters.
Cable Mat comprises of a flexible, robust fibre-glass mat with a thin heating element uniformly fixed to it. The in-floor heating element has a primary Teflon insulation, metal shielding and a final outer insulation material. The heating elements outer diameter measures 2.2mm, supplied with factory fitted, waterproof cold tail leads.