Residential and Low-rise Steel Framing Standard from NASH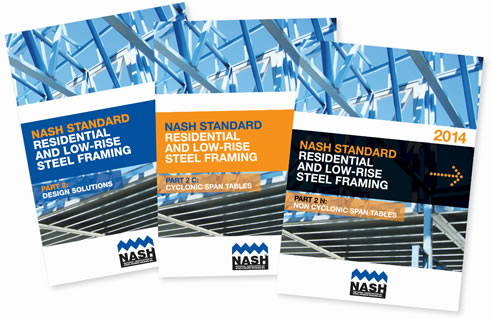 New NASH Standard - Residential and Low-rise Steel Framing,
Part 2 and Span Tables referenced in NCC 2015
The new NASH Standard - Residential and Low-rise Steel Framing Part 2: Design Solutions, Part 2.N Non cyclonic and Part 2.C Cyclonic span tables are referenced in the NCC 2015 which comes into force in all States and Territories on 1 May 2015.
This means that this Standard is now deemed-to-satisfy solutions in the NCC and hence must be accepted by Building Surveyors and Certifiers.
The NASH Standard Part 2 is based on the design criteria set out in the NASH Standard for Residential and Low-rise Steel Framing, Part 1:Design Criteria and the guidance given in the NASH Handbook: Design of Residential and Low-rise Steel Framing.
The Standard provides design solutions for wind classifications N1 to N4 and C1 to C2 as defined in AS 4055. The Standard covers:
Roof beams and rafters Solutions for purlins, rectangular hollow sections and top hat sections are included. The Standard specifies minimum section properties for purlin and top hat sections so that products from different manufacturers can be readily used. Roof trusses are not covered in this section.