Maxi Beam Lightweight Beam Solution from Supawood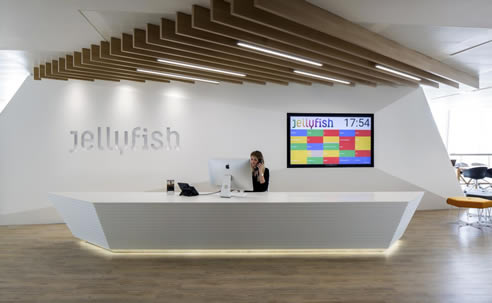 Maxi Beam achieves new heights at The Shard, London
When Jellyfish, the world's biggest boutique digital marketing agency, took possession of their office on Floor 22 of The Shard in central London, the brief to the designers was to develop a space that reflects their dynamic and innovative brand.
The design concept included the use of chunky looking timber beam features on some of the ceilings but this posed both logistical and structural limitations in the high-rise city location. The designers looked to SUPAWOOD UK for a suitable lightweight beam solution.
SUPAWOOD UK recommended Supaslat MAXI BEAM as this flexible lightweight beam product is ideal for installation in difficult site situations.
The Shard is the tallest building in the UK at a height of 309.6 metres and is now one of London's iconic landmarks and most prestigious addresses. The designers therefore aimed at creating stunning ceiling features which would reflect the dramatic shape and angles of The Shard's exterior. This design included individually shaped beams above the reception, and intersecting beams above the bar.
SUPAWOOD UK worked with the client's installation team and provided full technical support and drawings to ensure that the complex design and layout of beams went smoothly. The intersecting beams above the bar had to be installed in a specific order to ensure the correct result, so individually sized Maxi Beams were produced to enable this.