Inventive Acoustic Ceiling Lining Concepts for WSU by Supawood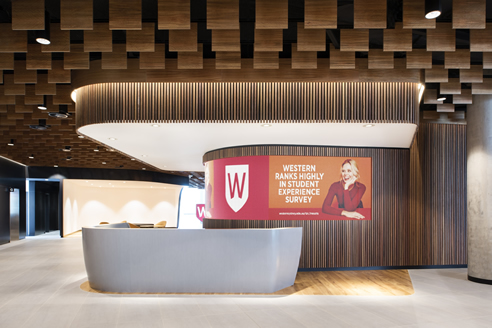 Innovative learning space fit-out for WSU's vertical campus by Woods Bagot.
The fit-out of the Western Sydney University flagship 'vertical campus' at 1 Parramatta Square included tailored feature linings by SUPAWOOD on many ceilings throughout the 11-levels. Designed by Woods Bagot, the fit-out incorporated inventive acoustic ceiling lining concepts which contributed to targeting a 5 star Green Star rating and had to meet the tight program the client demanded.
Without compromising the essence of the initial concept, SUPAWOOD provided value management solutions to fit within the required budget and then supplied factory prefinished linings which minimized on-site trades and installation time.
The $40m integrated fit-out delivers world-class educational facilities for the WSU School of Business and its nearly 10,000 students. The design emphasises the creation of flexible learning spaces which can adapt to changing teaching practices into the future.
Four innovative tailored products were developed and supplied factory pre-finished to suit the design concept.