Ladder Roof Hooks from Little Jumbo Ladders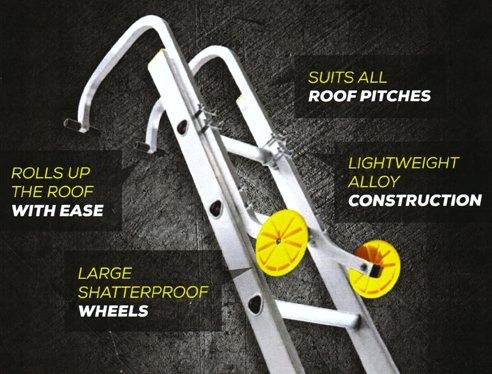 Universal Roof Hooks (URH) from Little Jumbo Ladders converts any single section ladder into a roof/ridge ladder in a matter of a few minutes. Simply clamps onto your ladders top two rungs with U bolts and nuts provided. Comes with large yellow shatter proof wheels to make rolling the ladder up the roof to the ridge line effortless.
When the ladder is rotated, the large arc hooks with rubber bungs instantly grip onto the opposing tiles and stabilise the ladder providing a safe and stable work platform for you to work on. The Universal Roof Hooks suit all single section ladders, all roof pitches, and has a high maximum load capacity of 150kg.

ISO 90001 Accredited Manufacturer - lightweight alloy construction of 2.5kg - stay safe when working on your roof and get your ladder roof hooks today! Please visit our website, call us, or drop in to see us and discuss your needs.

03 9587 1964
Factory 11, 212 Governor Rd, Braeside, Vic, 3195