School Hall Acoustic Lining from Supawood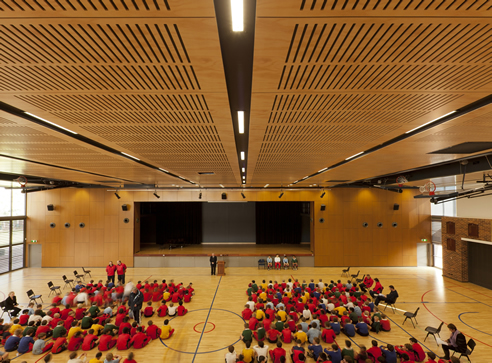 PMDL utilise Design & Construct service for school hall
SUPAWOOD's acoustic and solid decorative panels have been used extensively throughout the multipurpose hall at Barker College junior school in Hornsby NSW.
The architects, PMDL, wanted to achieve a warm durable timber finish to complement the character of the rest of the campus while addressing noise reverberation on a tight budget. They looked for a company who could supply suitable matching products to address acoustics and who would provide advice throughout the duration of the project.
SUPAWOOD met the criteria perfectly as they offered a full Design & Construct service and worked closely with the architects, builder and the client throughout the project to achieve the desired design intent.
Barker College is one of Sydney's oldest prestige schools, and the expansion of the junior school involved an extension to an existing building to include a multipurpose hall with a theatrical stage and other related facilities.
SUPAWOOD advised on the best lining systems which could be supplied as a complete system and matched across products, allowing flexibility in the design within the desired budget.