Energy efficient under carpet floor heating from Amuheat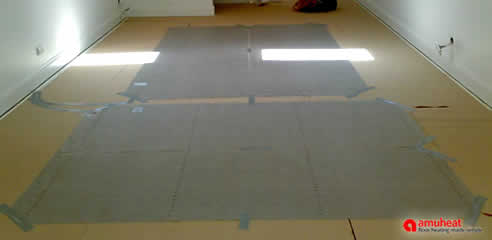 Amuheat's energy efficient range of under carpet floor heating systems now make warming rooms throughout your home a possibility. Choosing the correct heating system for rooms with carpet flooring poses a challenge. Carpet is often used in bedrooms, baby rooms, study's, media rooms, rumpus rooms, etc. You want to be sure the heating system you choose is healthy, safe, does not spoil the rooms design and does not restrict furniture placement.
The under carpet floor heating system by Amuheat offers several advantages;
Is suitable for new or existing carpet floors.
Discretely installed between the carpet and underlay - cannot be felt underfoot and does not use up wall or floor space.
Thermostatically controlled costing approx 0.001c per sqm to operate.
Waterproof and safe from shock and fire hazard when connected to a RCD circuit.
Full earthed heating element eliminates risks associated to exposure of EMR.
No VOC, no moving air/dust mites which promotes healthier homes.
No hot surfaces, safe to the touch - perfect choice in room with children.
Under carpet floor heating systems available in a range of sizes to suit any room layout.
Available in trade kits for DIY installation under new or existing fitted carpets or under loose lay rugs.