Veneered Acoustic and Solid Panels from Supawood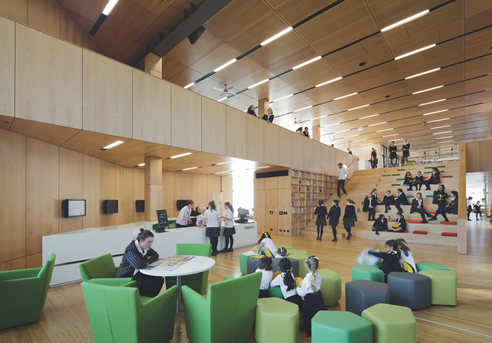 Supawood acoustic and solid panels used extensively in an award winning building at Ravenswood School for Girls.

The Mabel Fidler Building at Ravenswood School for Girls, Gordon NSW by BVN Architects has been awarded the Sir John Sulman Medal for Public Architecture. This most prestigious award includes the Sydney Opera House amongst its past winners. The building is now the new front door for the school and functions as a central hub and being creatively planned as an imaginative and stimulating learning environment by combining flexible teaching spaces, libraries, a dance studio, resource centre and a café under one roof. Supawood are pleased to have supplied the extensive Anegre veneered panelling which dominates throughout the interior with the welcoming warmth of wood. The ceilings and partitions contractor on the project, Sunshine Interiors, needed a supplier for the veneered panelling that could meet their critical requirements of this prestigious project. These included a need for a very high quality finish, consistency of colouring of the veneer, attention to detail and the ability to produce the many concealed access hatches required by the design. Sunshine Interiors turned to Supawood to supply the panelling as they could be relied on to meet all these requirements with products backed by rigorous acoustic testing, detailed shop drawings and a proven reputation.