Screenflex Portable Screens Exclusive to The Partition Company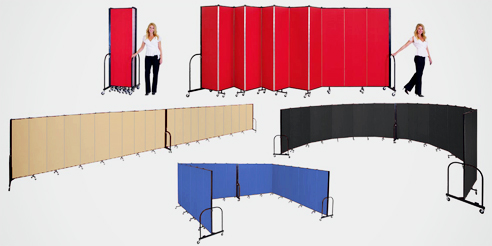 The Partition Company are Australia's only licensed distributor of the Screenflex portable screen system, designed and manufactured in the United States.
We have been in the business of supplying partitions for decades and when we discovered Screenflex, even we were beyond excited! We have been selling this unparalleled product since 2009 and can't say enough glowing comments about it. As you can imagine, imitations abound but we'd like to reiterate the quality and robustness of the Screenflex system.
No other system offers a Lifetime Warranty!
Screenflex's Multiple Applications
With Screenflex's portable walls, you'll never be short on ways to use this innovative and high quality room dividing system.
Isolate meeting spaces from workspaces.
Create display panels for multiple materials such as marketing, training, education, notices, calendars, lists, instructions and more.
Tackable panels are ideal for storyboard presentations.
Create instant training or meeting rooms out of larger areas.
Use Screenflex as an acoustic barrier.
Screenflex panels can be branded with your organisation's colours, logo and marketing message.