Plaster and Patina Aged Wall Finish from IDC Colourfield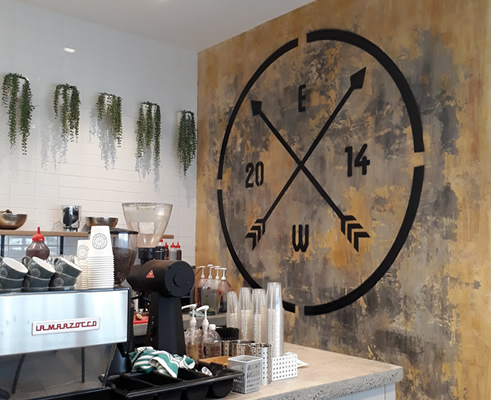 Alterior Finishes - IDC Colourfield
IDC Colourfield specializes in the application of Italian polished plasters, Gold & Silver leaf, mural work & our range of "Alterior Finishes".
A signature aged wall finish using plasters & patinas was developed for Espresso Warriors coffee shops with a rollout of feature walls for a number of stores.
Layers of pigmented plaster are built up over the wall to give it texture & depth - layers of washes are then applied to give an aged effect with dramatic results.
The signature finish for Espresso Warriors has proven to be very successful giving the brand a truly unique look & feel, setting them apart from the competition.
All IDC Colourfield finishes are custom designed for clients & coded for easy specification, maintenance or repeated for a roll out of stores.