High-Performance Modules for Cooling Ceilings by Aquatherm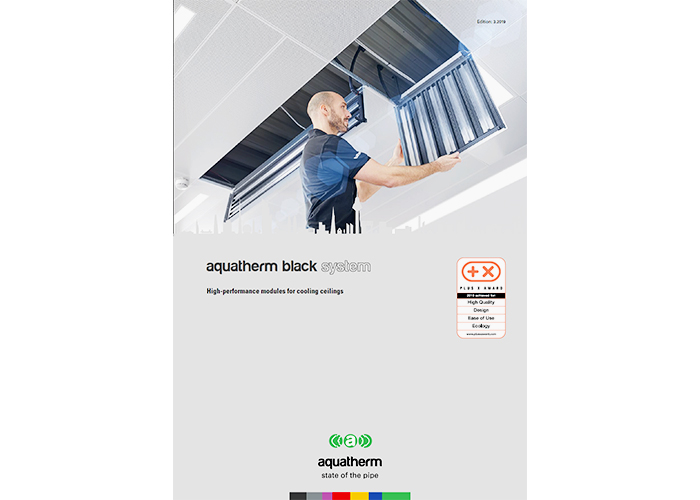 The aquatherm black system high-performance modules for cooling ceilings is "next level" when it comes to comfort cooling.
High quality meets ecology, aquatherm black system was awarded the "Plus X Award"
The aquatherm black system surface heating and cooling system received a very special award and was honoured with the "Plus X Award 2019." The system won the award in the sanitary and climate sector for a total of four outstanding features: high quality, design, ease of use, and ecology.
Among other things, the jury's statement states; "The aquatherm black system surface heating and cooling system creates a pleasant room climate without disturbing drafts. Depending on the chosen water temperature, this technology can either be heated or cooled."
For this purpose, the surface temperature of the black heating and cooling elements made of corrosion-resistant polypropylene is driven a few degrees above or below the desired room temperature as required. This ensures a rapid radiation exchange, which causes a pleasant warmth or coolness without raising dust.
The flexibility of the system was another reason that convinced the jury; "The high-quality aquatherm black system can be easily installed in walls, floors and ceilings, even retrofitting is possible. In addition, the system is very energy efficient."
In addition, the jury praised the automatic and silent switching from heating to cooling mode. Another important advantage of the system is that the register elements have a low weight of about 4.1kg/m² including water filling and are already being produced object-specifically in the main plant of the aquatherm group of companies in Attendorn. This allowed a quick installation on site.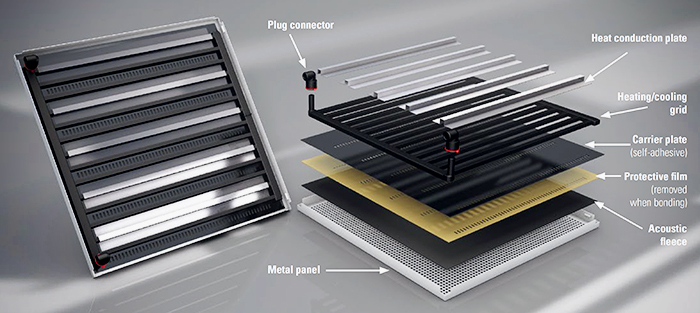 Advantages
High heating and cooling performance due to excellent transmission surface contact.
Short assembly times thanks to pre-fabricated, self-adhesive modules.
Soundless and invisible.
No draughts or airborne dust blowing around.
Ideally suited for use with heat pump and condensing boiler technology due to low flow and return temperatures.
High sound absorption in metal ceiling panels with micro perforation or in perforated plasterboard plates.
Able to retrofit into existing metal ceiling systems.
For more information regarding High-Performance Modules for Cooling Ceilings by Aquatherm, visit www.aquatherm.com.au.