Floor heating cables from Amuheat - electric floor heating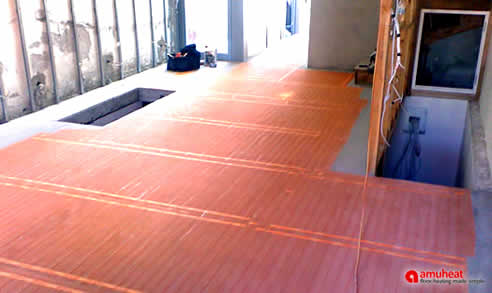 An improved floor heating cables system by Amuheat now offers the renovation market the perfect solution to include floor heating without raising existing floor levels with costly screeds. The 1mm thin floor heating cable system is installed above the slab/screed in the tile adhesive.
The unique floor heating cable system design is perfect for the DIY or trade installer. Configured in strip form with adhesive tape strips attached, the floor heating cables system is easily configured to suit the room layout and quickly stuck to the concrete or fibre cement boards. Self adhesive fibreglass mesh is then unrolled and stuck over the floor heating cables offering protection from damage during the tiling process.
The improved floor heating cable is safe. The cold tail connections which are embedded in the floor are factory terminated and guaranteed waterproof. The floor heating cable is fully earthed and double insulated with Teflon. Connected to a RCD circuit the Amuheat Cable Strip floor heating system is safe from fire and shock hazard.
Amuheat offers free floor heating design services and installation support across Australia. The floor heating cables are also available in kit form for DIY or trade install. Floor heating cables kits are supplied complete with the floor heating cables, element fault monitors, programmable thermostat controls and installation guidelines and free telephonic installation support.