High Performance Flooring Coatings from BASF

Prestige Hino, Dandenong, Victoria
High performance flooring solution for 7300m2 concrete floor meeting a range of performance criteria:
Hard-wearing, robust performance
Resistant to spills and staining by hydrocarbons and chemicals
Easy to clean and maintain
Attractive aesthetics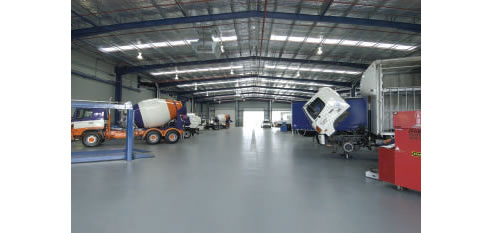 To meet these criteria, the building's designers specified Mastertop 1080, an epoxy-based high build coloured floor coating from BASF Construction Chemical's.
Based on a high solids, two component epoxy resin system, Mastertop 1080 provides excellent resistance to both chemical and mechanical damage, making it ideal for use in a wide range of facilities, including workshops, warehouses and carparks, and for floors in production facilities and processing plants. Supplied in pre-packaged and proportioned kit form, Mastertop 1080 is available in a wide range of colours and can be applied to both vertical and horizontal substrates. The Mastertop 1080 floor in the new Prestige Hino service facility was roller-applied in an attractive 'BASF Notre Dame' colour.