Concrete Repair and Protection Solutions from BASF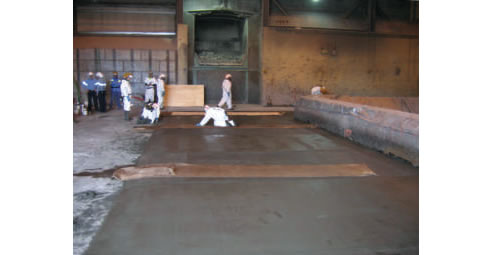 Alcoa Portland Smelter
Project
Severely damaged floor of approximately 200m2 with damage of up to 65mm deep in some areas.
Select a concrete repair material with strength and performance characteristics to withstand the daily punishment metered out by the heavy equipment and metal waste in the smelter's demolition room.
Develop a repair and reinstatement procedure that could be completed with a minimum of disruption to the smelters day-to-day operations.
Our Solution
Mastertop 230, a heavy duty, high strength, iron aggregate topping.
Specifically developed to provide industrial floors with extra heavy-duty protection against abrasion and impact, Mastertop 230 can be applied over correctly prepared existing hardened concrete to provide significantly longer service life when compared to either normal high-strength concrete or natural aggregate toppings. Mastertop® 230 delivers eight times the wear resistance and four times the impact resistance of plain concrete.
03 8855 6600
Southbank, VIC, 3006