Waterproof Concrete Injection & Finishes from BASF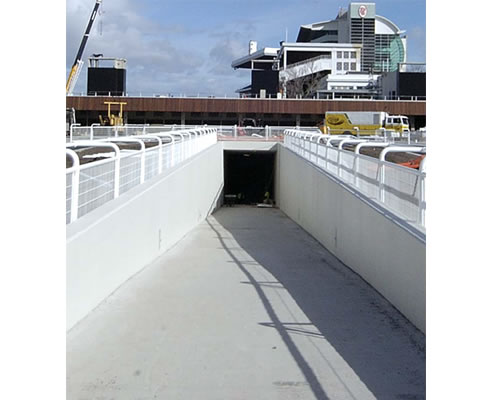 Flemington Racecourse Horse Tunnel
The Challenge
- Significant design, engineering and construction challenges, including location in relation to Maribyrnong River, the prevailing geology and tight construction time-frame.
- The fact that the tunnel has been constructed below the water table in Coode Island Silt, meant that the performance of the waterproofing methods and materials used were critical in the success of the project
The Solution
- For maximum waterproofing effectiveness, all joints - both along and between the floor, wall and roof sections were fitted with the Masterflex 900 Injection System reinjectable hose system from BASF.
- Application of Coniroof 2113 to the external surfaces of tunnel roof and walls delivering the ideal combination of outstanding long-term durability, high elasticity and extremely fast cure time.