Solar Control Film for Heat and Glare Reduction from Sunscreen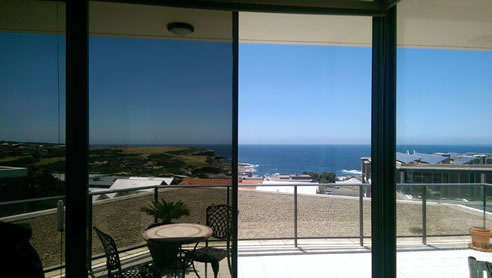 Sunscreen Window Tinting Improves Ocean Views Using
3M™ Scotchtint™ Night Vision NV25 Window Film
A clearer way to enjoy your favorite outlook
PROBLEM: The home owner of a large house in Sydney's eastern suburbs approached Sunscreen Window Tinting with a list of issues regarding their home. Expressing their concerns; the home was northeast facing, resulting in unbearably hot temperatures inside throughout the summer months, which meant running the air conditioning at full capacity for the most part of the day. Glare was another issue, adding eyestrain from the sun's excessive light, interfering with the view of the ocean and spectacular sunrise. They also required day time privacy from neighboring apartment buildings. The client questioned if Sunscreen could provide such a film that could combat all of these elements in one product without losing too much natural light and preserving night views.
SOLUTION: 3M™ Night Vision NV25 Solar Control Film: 60% Heat Reduction, 73% Glare Reduction & 99% U.V. Protection. 3M™ Night Vision Window Film creates daytime privacy, with large heat reductions & U.V. protection, has a low interior reflectivity that leaves your view clearer than ever, especially at night.
RESULTS: The client was so impressed with Sunscreen's efficient, trouble free installation, which only took a half day to install 50 square meters of film. Now the most important issues have been overcome, Sunscreen's client has expressed much improvement and can now enjoy the benefits of their home with comfort and privacy and have peace of mind with 3M's comprehensive limited lifetime residential warranty.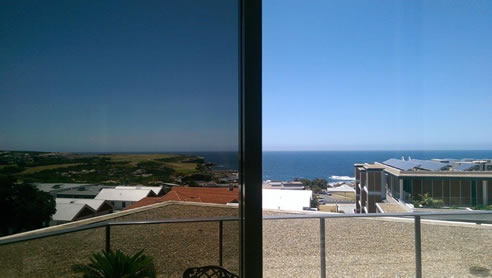 3M NIGHT VISION WINDOW FILM BENEFITS:
Avoid heavy window coverings
Great heat rejection provides energy savings and improved comfort
A warm natural hue invites warmth and beauty to any room
Protects skin and extends the life of furnishings by significantly reducing UV rays, the largest cause of fading
Low interior and exterior reflectivity, enjoying clearer views especially at night!
New 3M nano-technology enhances colour stability
Reduces glare and eye discomfort
Comprehensive 3M manufacturer's warranty
Increases personal safety from flying glass
Superior scratch resistant coating
PERFORMANCE RESULTS:
| | NV-15 | NV-25 | NV-35 |
| --- | --- | --- | --- |
| UV Blocked | 99.9% | 99.9% | 99.9% |
| Solar Heat Reduction | 69% | 59% | 49% |
| Glare Reduction | 83% | 72% | 60% |
| Visible Light Transmitted | 15% | 25% | 35% |
| Total Solar Energy Rejected | 75% | 66% | 57% |