Steel Framed Construction in Bushfire Areas from NASH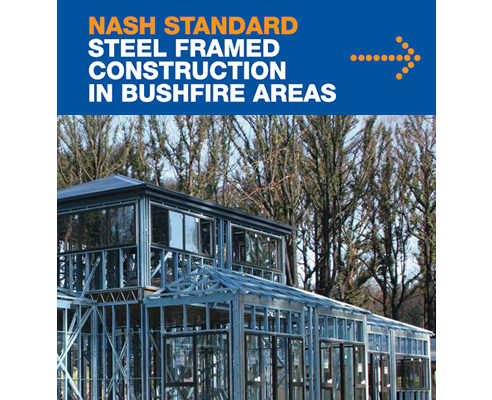 New NASH Standard - Steel Framed
Construction in Bushfire Areas referenced in NCC 2015
The new NASH Standard - Steel Framed Construction in Bushfire Areas is referenced in the National Construction Code 2015 edition, which was released on 1 February and came into force in all States and Territories on 1 May 2015.
This means that this Standard is now deemed-to-satisfy solutions in the NCC and hence must be accepted by Building Surveyors and Certifiers.
The NASH Bushfire Standard is a parallel building solution to AS 3959 - Construction of buildings in bushfire-prone areas for steel framed construction with steel roof cladding and various wall cladding options. The NASH Standard is based on a non-combustible building envelope and hence combustible items should not be placed in the roof space or wall cavity. The NASH Bushfire Standard specifies doors, windows and some other items conforming to AS 3959. Apart from this exception, it is not permissible to mix and match solutions from the NASH Bushfire Standard and AS 3959.