Mechanical Protection of Cables from Design Quintessence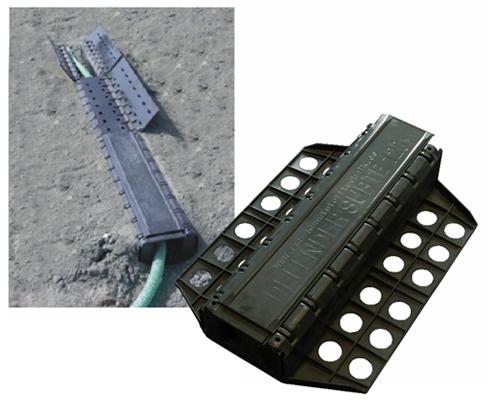 Design Quintessence offers The Defender Subterra from Sentinel. The Defender Subterra was developed for the exploration and mining industries for heavy duty mechanical protection of cables and hoses underground. The large profile accommodates cabling and/or high pressure hosing of up to 100mm.
The innovative design allows the pulling of cable or hosing quickly and securely with repeated ease. It can be installed above ground or underground in a trench at the desired depth and is resistant to acids, petroleum and oil.
Channels 1 (113mmW x 100mmH)
Build Material Extremely strong and durable polyurethane body and lid.
Flammability Class B2
Safe Operating Temperature -30°C to +60°C
Load Capacity 5 tonne per 150mm x 150mm surface area