Balustrade Systems Victoria from ABRA Metals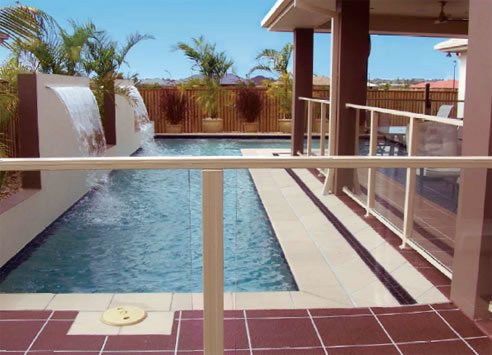 ABRA's Terrace Series Balustrade is a complete system that is easy to fabricate and install for a long lasting and stylish look; a cost effective way to enhance and enclose terraces, balconies and pool areas.
The system allows powder-coating prior to assembly offering a limitless variety of colour combinations to match or contrast with the specific application.
The series includes:
Round Balusters with continuous top rail
Colour coordinated
Glazed
Stainless Steel Wire
Picket style
Important Specification & Test Data
Terrace Balustrade offers not only a stylish look, but incredible strength too. Under in-situ test conditions, the system was given a thorough workout. A lateral load of 272kg was applied to the top rail, as seen in picture 1. Such an applied load puts great strain on a balustrade, however whilst many others would not have sustained the weight (see pictures 2 & 3), the Terrace came through with flying colours. Terrace Balustrade conforms to Australian Standards AS/NZS1170.1:2002 and AS/NZS1664.1:1997.
Standards/geometrics
Over 7,000 shapes including customised
Finishings include powder coating/anodizing, bright dip, machining, punching, drilling - you name it, we'll do it and if it's not in stock, we'll get it promptly
Fabrication facilities
Over 75 extrusion presses to source from
Special alloys and tempers available
Security frames - stainless and galvanized mesh