Timber Shutters and Insulation from Open Shutters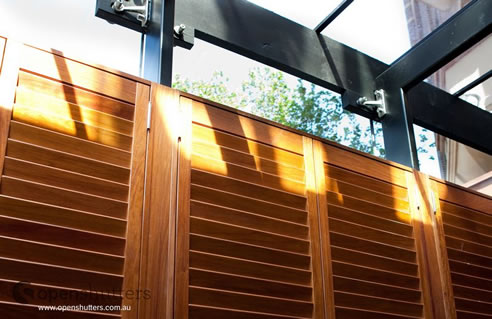 Open cedar shutters help improve the quality of life through their thermal qualities. Being solid Western Red Cedar, we have found that Open Shutters insulate a home by improving heat loss by up to 47%. The resultant reduction in heat transfer significantly lowers the requirements for air conditioning. Which simply means lower power bills.
Cedar shutters have an R value 4 times that of brick
Western Red Cedar is an excellent thermal insulator, far outperforming brick, concrete, steel and aluminium. It protects buildings and houses from the extremes of heat and cold.
The cellular structure creates low density and air spaces that make it the best insulator of any available softwood.
Its thermal conductivity factor K is 0.74 BTU in / ft2 h F.
Thermal conductivity in units of watts per meter per Kelvin (W.m-1.K-1) is 0.11.
Cedar has an R-value of 1.35 per 25mm of thickness
The R value is equivalent of 100mm of brick.