MASTERWALL Insulated External Wall System from Hazelwood & Hill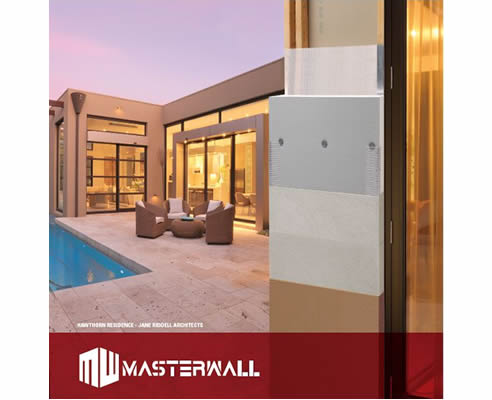 HAZELWOOD & HILL provides a complete take off and after sales service for all MasterWall product and requirements.
The MasterWall Insulated External Wall System is designed to provide a long lasting, energy efficient, weather tight building envelope with architectural integrity and excellent performance credentials.
Masterwall offers designers the ability to create without compromise and builders to construct quickly, effectively and economically whilst reducing the carbon footprint of the building. That's why MasterWall is the leading choice of Australian home owners, builders, architects and designers.
LIGHT WEIGHT CONSTRUCTION
VARIETY OF TEXTURE & FINISHES
CURVED FACADES OR STRAIGHT LINE FINISH
FULLY WEATHER TIGHT, MONOLITHIC FINISH ON WALLS, SOLID BALCONY BALUSTRADES AND PARAPETS.
BRICK LINE WINDOW AND DOOR REVEALS.
For further information, please direct all your enquiries to 03-9808 5522 or email.