CCAA Smart Concreting App from Neilsens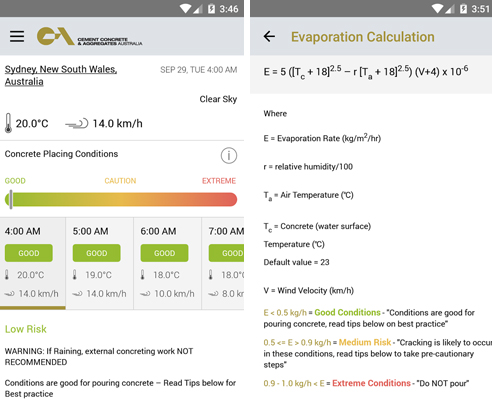 If you want to place your concrete with the best results look no further than the newly released Cement Concrete & Aggregates Australia (CCAA) Smart Concreting App.
The app utilises local weather and atmospheric data to calculate evaporation rates. This provides simple guidelines on concrete cracking conditions to site personnel on construction projects to help prevent defects and encourage best practice.
Drawing on multiple data sources it provides:
Real time weather guidance on the potential for plastic shrinkage cracking.
Weather information allowing construction decisions to be made up to a week in advance.
Background information on critical factors affecting concrete cracking including temperature, wind speed and relative humidity.