Supaslat MAXI BEAM for Roadhouse Renovation from Supawood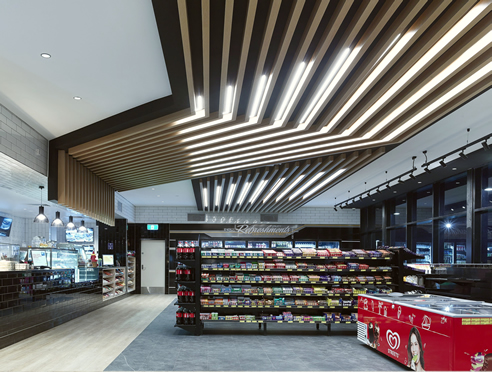 Cadway Projects 'play with' lit maxi beams in roadhouse reno
The very popular Shell Roadhouse rest-stop at Aratula on the Cunningham Highway Queensland has had a multimillion dollar renovation and now features a dynamic use of SUPAWOOD's Supaslat MAXI BEAM.
The architectural team at Cadway Projects had been looking for a suitable retail project in which to 'play with' Supawood products and this renovation presented itself as the ideal opportunity.
The design team wanted to experiment with combining LED strip lighting and Supaslat MAXI BEAM to create a visual effect with a directional cue for the store entry area.
In the main convenience store area of the complex, the designers have cleverly set out the MAXI BEAM in a geometric arrangement on the ceiling. The integrated lighting between the beams leads to key areas of the store. Where the beams meet the wall above the main counter they have been continued down the wall above it to subtly emphasise where to pay.